Chez Nathalie photographed by Corinne Schanté-Angelé.
Amid the ever-changing tapestry of interior design trends, there exists one whose timeless allure offers a respite from the whirlwind of modern existence. We are of course talking about French Country Cottage style, an artful approach to interior design that draws its inspiration from the idyllic cottages strewn across the French countryside. Here, rusticity harmoniously melds with quintessential French elegance, resulting in an aesthetic that transcends transient fads and endures as a paragon of charm and character.It beckons with a promise of simplicity and an escape to a more natural way of life.
French homes, like their owners, seem to possess an ineffable je ne sais quoi. However, we're here to help you unearth the fundamental elements of French Country Cottage style that has secured its place as a perennial choice amongst design enthusiasts.
**If you see something you like available from the MFCH Boutique, use the code MFCHMAG10 at checkout in the boutique to get 10% off your order!
Defining French Country Cottage
If you're a fan of the My French Country Home Magazine, you'll notice that we love sharing a wide array of French homes from grand châteaus in the Loire, to manor houses in the Luberon and trendy Left Bank apartments, which often feature a blend of French designs styles. So, let's start by defining French Country Cottage style.
Unlike its more grandiose counterpart, the French Château style, which leans towards lavishness and ornate details, French Country Cottage Style, exudes a rustic and down-to-earth vibe, drawing inspiration from the more humble dwellings dotted around France. While the former beckons with its opulence, the latter invites with its simplicity and unpretentious charm, focussing on natural materials, muted palettes, and pretty practicality.
Natural Materials
In French cottage interiors, natural textiles like linen, cotton and wool, and natural materials including weathered wood and stone accents feature heavily, and rustic touches like jute and burlap contribute to the countryside charm of these homes.
No French cottage is complete without an array of linens. From bedding to upholstery to curtains, organic fabrics are found throughout. To really emulate this style, choose materials with a worn-in look; in French country kitchens and on dining tables you'll always find vintage striped torchon (tea towels) or beautifully solid colored wrinkled linen serviettes (napkins) over starched or embroidered options.
Muted Tones
Harmonious neutrals, such as creamy whites, warm beiges and earthy browns form the foundational backdrop of a French cottage color palette, which instantly creates that airy yet welcoming ambiance for which the style is loved. To enliven this canvas, accents of muted blues, soft greens, blush pinks and sunny yellows are often introduced, mirroring the cheerful and soothing pastoral landscape outside.
Vintage Finds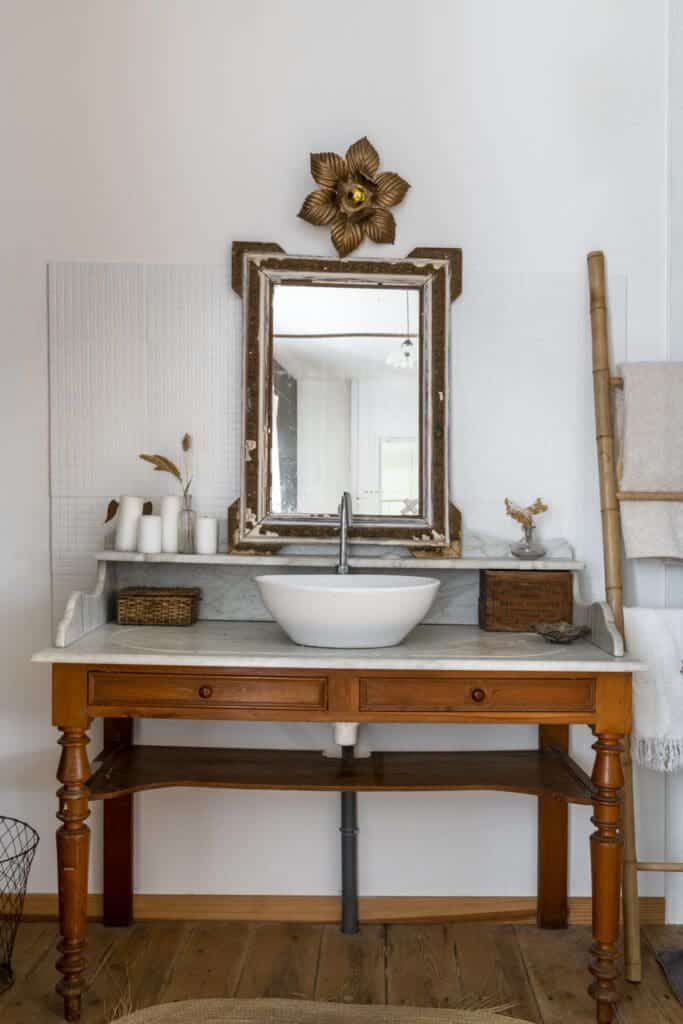 In the world of French Cottage style, vintage finds play a pivotal role, infusing homes with authenticity and originality. Enamel jugs, vases, and teapots transform into vessels for freshly picked garden flowers, effortlessly creating that 'just arranged' look. Fruit artfully scattered in rustic earthenware bowls, coordinated with room colors, not only offer visual appeal but also provide a good excuse to explore local fresh food markets, where you can also pick up herbs, whose place in terracotta pots sitting on window sills is both a culinary and decor essential.
Vintage and antique furniture pieces, with their weathered character, bring elegance without formality, each bearing the marks of time and use. A well-worn kitchen table is at the heart of French family life, and open shelving, whether through wooden dish racks or antique buffets will let your heirloom dish-ware shine. Patiently seeking out these treasures in vintage shops, flea markets, and online marketplaces is encouraged if you really want that lived-in charm synonymous with French cottages!
Layered Looks
For the final comforting touches, the art of layering textiles and patterns has to be perfected. Plush sofas are cloaked in relaxed slipcovers and throw pillows. Beds are swathed in gently wrinkled ruffled covers, or layers of plump quilts or chunky blankets, an irresistible invitation to rest.
Mixing and matching patterns is also a hallmark of cottage homes, evoking that cherished "lived-in" sentiment. Combining patterns like toile, ticking stripes, Vichy checks and dainty florals and distributing them evenly around your home adds that touch of timeless elegance to the overall aesthetic. The key to success in mixing patterns lies in tying them together with a cohesive color palette. This ensures a balanced and inviting atmosphere rather than a chaotic mishmash! The slightly eclectic aura pays homage to years of decorating and redecorating, offering a glimpse into the evolving story of cottage life.