Photograph by © Leonard de Serres
As the vibrant colors of summer slowly fade into the muted embrace of fall, we find ourselves captivated by the sensorial beauty of this enchanting season.
This September/October edition takes you through a feast of sights, scents and tastes. Our selection of gardens range from misty and moody to pleasantly dabbled, and our autumnal bouquet, bathed in golden sunlight and shot at the beautiful Château de Chenonceau, simply stuns….
In this issue, we invite you to share in some especially warm and rustic interiors. Step inside a renovated mill in Agen where a roaring fire, rich textiles and glinting antique brass fixtures draw the eye. Or feel the drama of these gradually darkening months in our escape to a stunningly redesigned tannery in Lectoure.
We have specially curated a Discovery guide that will transport you to the heart of Cognac at a time when the vine leaves are glowing in amber red. Our Portfolio uncovers a secretive art, buried deep in the French countryside: mushroom hunting! Meanwhile, our Artisans of France feature highlights a fine leather goods and saddlery shop in Le Pin, home of the Haras National, France's most renowned horse breeding farm. As always, you'll find delectable seasonal recipes that do not disappoint – from the Benedictine nuns in Mont-Saint-Michel to the Instagram sensation Camille Chamignon.
Read on to take a peek at a few of our features from autumn in France, and click below to flip through a full preview of the magazine.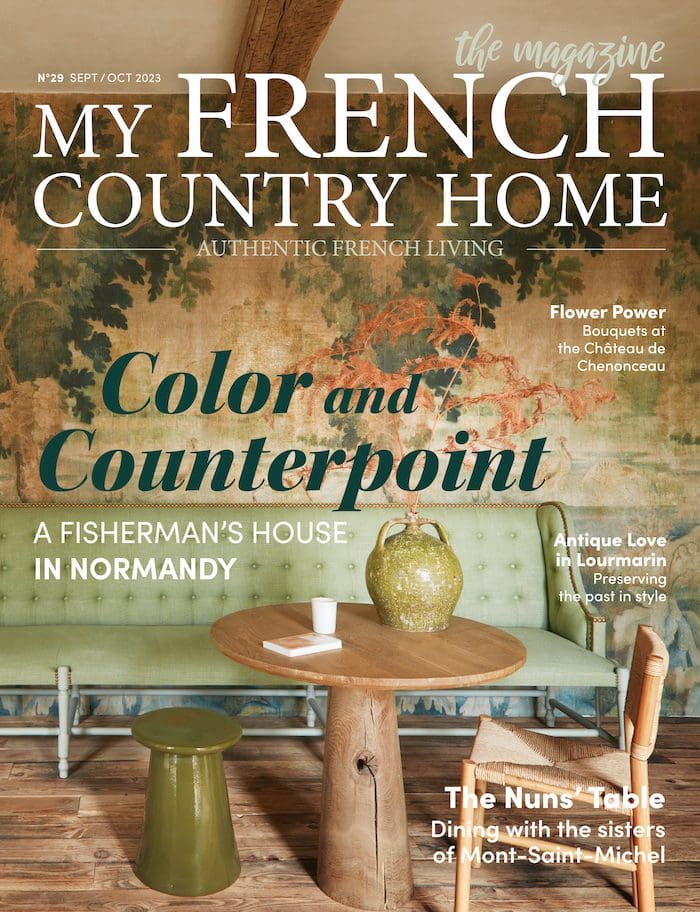 Whispering Woods
Deep in the heart of the French countryside, a clandestine tradition thrives, passed down through generations like a whispered secret. Join the "mushroom hunters" in the early morning mist as they embark on a quest to to uncover some of nature's most delectable and elusive gifts.
Glorious Minimalism Along the Camino de Santiago
Take a pilgrimage with the turn of a page to the Manufacture Royale de Lectoure, the site of an abandoned royal tannery that has been converted into a boutique hotel opened in 2022. With rooms that exhibit traces of its history and touches of contemporary design, guests and pilgrims enjoy a minimalistic treat along the Camino de Santiago.
Cognac: Where Curiosity Meets Craftsmanship
When the amber light of the early autumn sun hits the rouging vines that drape Cognac's rolling hills, it seems as though you can already taste the region's famed brandy before it even touches your lips. Take a journey this grape harvest season to the Charente department in southwest France.
The Nuns' Table
Gather around the table with the Benedictine sisters of Mont-Saint-Michel who share their divine cuisine concoctions with food stylist and photographer Laurence du Tilly who helped turn the elements of their communal meals into a best-selling cookbook. We offer five of their glorious recipes for you to try at home.
We hope your senses are ignited as you read our autumn edition of the magazine and feel transported to a colorful fall in France.