The days are getting longer and the breezes warmer as winter gradually gives way to spring. Welcome to our March/April 2023 edition of My French Country Home Magazine!
This issue brims with inspiration for those readying their gardens for the coming months. Join us for a meander through the magical Jardins de la Chaubaude – a Tuscan-themed oasis tucked away in the heart of Provence – and Jardin du Plessis-Sasnière in the Loire Valley, an exquisite English-style garden.
Our "Discovering Guide" takes us off the well-beaten path of the French Riviera to the charming yet still largely undiscovered Languedoc coast. Moving to France's northern shores, we rediscover one of the country's most iconic landmarks – Le Mont-Saint-Michel – from a very different vantage point captured by photographer Jerome Houyvet's in our Portfolio piece.
For our spring interiors, we visit an old stone farmhouse in the Luberon and an interior design journalist from Bordeaux shares her farmhouse turned cozy weekend getaway in the Charente. We also showcase a stunning bouquet using the versatile tulip with the help of our friend and floral artist, Sandra Sigman.
Here, take a peek at just a few of our features, and click below to flip through a full preview. We hope that you enjoy it, and that we manage to whisk you into spring!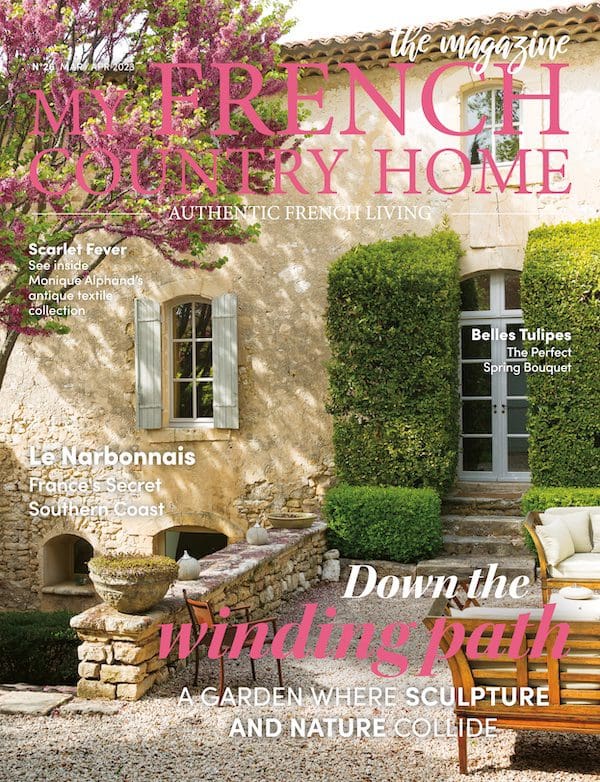 Les Jardins du Plessis Sasnières
Over six decades ago, Rosamée Henrion reclaimed an ancient hunting lodge with surrounding land in the Loire Valley. Now, her love and her labors have transformed the otherwise abandoned property into a small paradise that spans eleven hectares, situated on a plateau overlooking – and spreading into – the valley below.
France's Secret Southern Coast
A long-time French secret, Narbonne is the perfect holiday destination to enjoy the seaside charm of the Mediterranean with none of the crowds of the Côte d'Azur. From the western edge of Provence all the way to the Spanish border, discover why artists and artisans are drawn to this picturesque town and its surrounding fishing villages, stunning pink salt flats, blue lagoons and quiet beaches.
Between the Sky and Sea
Gliding high above the sandy landscape, photographer Jérôme Houyvet takes us on an aerial stroll to discover new and magical angles of Normandy's most famous monument. Thanks to his local knowledge, and hours of experience in all weathers, he is able to predict the best light and shooting opportunities. Revel in his ability to capture the island's tidal rhythms, its turquoise lagoons, morning mists, flitting sailboats, and verdant grasslands like never before.
Stone by Provençal Stone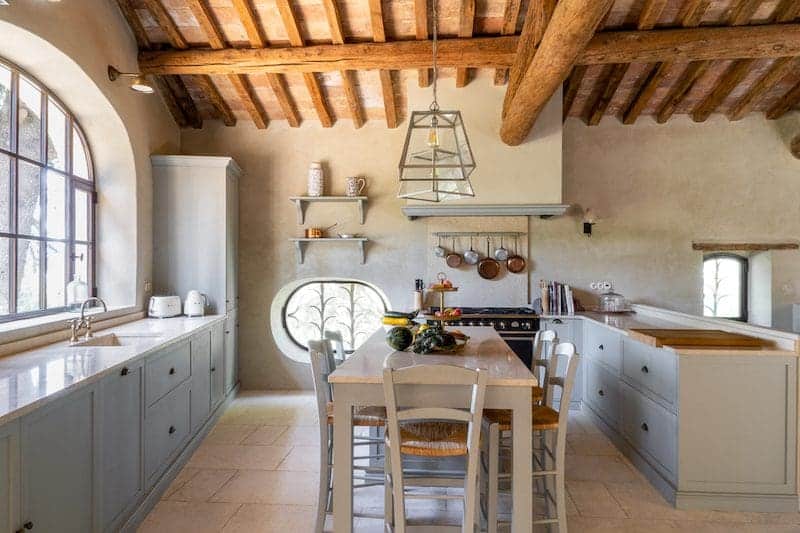 A passionate collector of all things vintage, Anna Covelli's Provençal home and textiles workshop, La Maison en Pierre, reveals the wonderful effect of fusing slow design with thoughtful restoration in this 17th century stone mas in the Luberon. Explore their home and check out the accompanying "Get the Look" feature to help you achieve an interior inspired by La Maison en Pierre.
We hope you are excited as we are about our March/April 2023 issue!