Everyone is aware that the French are masters of cheese and butter, but a lesser-known fact is that this dairy domination also applies to the tastiest dairy of all: ice cream! (Or glace – pronounced "glass" – in French)
Summertime in France – and particularly in Paris – is generally sizzling. Therefore, it is a common sight to see locals and tourists alike traversing the streets with a waffle cone in hand filled with a colorful scoop of cool, creamy delight.
As with any culinary quest in Paris, good options are widely available, but the best are those unassuming gems that are authentic, artisanal, creative and – above all – leave you wanting more. Read on to discover our top 10 picks of the best ice cream shops in Paris.
1. Berthillon
No summer trip to Paris is complete without a visit to the original French ice cream sensation – Berthillon! Started in 1954 by hotel-owner Raymond Berthillon on Île Saint-Louis, the island in the center of Paris, this 48-flavor ice cream shop still only uses the finest and freshest of ingredients which is what keeps bringing ice cream lovers near and far back to its quaint storefront.
*Don't let the lines down the block intimidate you, there are multiple locations on the island, and they are also sold on the dessert menu in many restaurants – and trust us, it is worth the wait!
31 and 46 Rue Saint-Louis en l'Île, 75004
2. Une Glace à Paris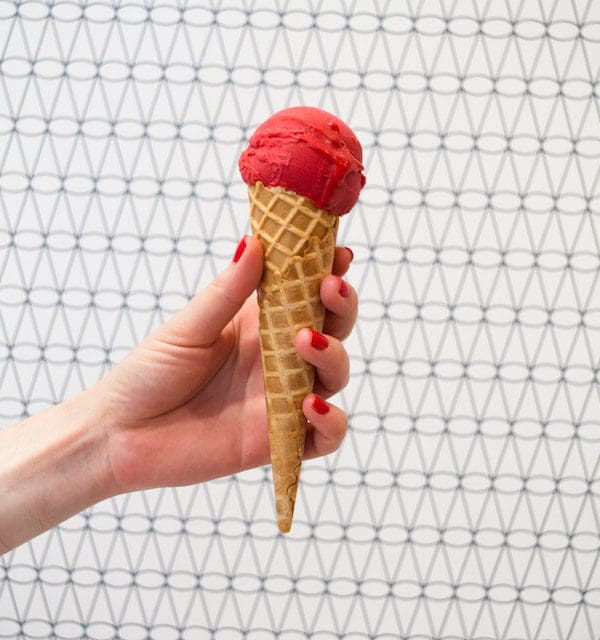 Winners of "Meilleur Ouvrier de France Glacier" (Best Ice Cream Maker in France) and "Champion du Monde de Pâtisserie" (World Pastry Champion), the creators of Une Glace à Paris, Emmanuel Ryon and Olivier Ménard, clearly know what they're scooping. Mixing sweet and spicy flavors inspired from ingredients around the globe, their superior quality ice cream and frozen pastries make for imaginative creations.
15 rue saint Croix de la Bretonnerie 75004
16 place des Abbesses 75018
3. Gelati d'Alberto
Artfully stylizing ice cream scoops to create delicate flower petals is an Italian technique that was first brought to Paris by Gelati d'Alberto, the glace gem of the Latin Quarter on the historic Rue Mouffetard. With unique flavors like rose, violet, and mojito, the daily homemade gelato blooms out of the cone (or cup) for both a photogenic and mouthwatering experience that must not be missed in this charming neighborhood.
*While the ice cream is wildly delicious, perhaps the best part of this French-Italian gelateria is the man behind the counter: Alberto himself! Say hello to him at his equally delicious pizza restaurant next door – and tell him we sent you!
45 Rue Mouffetard, 75005
4. La Glacerie Paris
In order to make ice cream that most closely resembles natural flavors, all that is needed is simple ingredients: farm milk, fresh cream, sugar, and eggs. What makes the difference is where those ingredients come from – and La Glacerie Paris does not skimp on sourcing. Pulling peaches from the Rhône Valley, bananas from Réunion, and other specialty flavors from every terroir in between, everything about this Parisian glacerie is oh, so French. Try their "bombe glacée" which has a glazed meringue dome shell filled with an ice cream center for a flavor explosion!
13 Rue du Temple, 75004
5. Pierre Hermé
Locally and internationally known as the "Picasso of Pastry" Pierre Hermé was one of the first world-renowned French pastry chefs to create a line of ice creams. Taking inspiration from the patisserie's emblematic flavors used in their popular macarons, this fancy glace exquisitely captures the taste of summer in France.
72 Rue Bonaparte, 75006
126 Bd Saint-Germain, 75006
4 Rue de Bretagne, 75003
6. La Glace Alain Ducasse
World-famous chef Alain Ducasse applies the same chef's approach of cooking as he does to crafting his fine ice cream. In collaboration with his gelatiere from Bologne, the pair choose a scrupulous selection of ingredients and use meticulous preparations to bring out the best flavors of the raw materials for an authentic taste and delicious experience.
38 Rue de la Roquette, 75011
7. Bachir
The first and only 100% organic Lebanese ice cream shop is an enticing journey for the tastebuds. Lebanese cuisine abounds in Paris and this ice cream shop is icing on the…cone. With two locations near the Centre Pompidou and the Sacre Coeur, Bachir is a necessary stop in these must-visit areas. Try their signature achta ice cream coated with crushed pistachios!
58 Rue Rambuteau, 75003
7 Rue Tardieu, 75018
8. Le Bac à Glaces
Traditional, family-run ice cream maker Bac à Glaces has made a legacy for itself since it opened in 1955. Using natural products and minimal sugar to achieve an authentic taste with an extra creamy texture, this Parisian ice cream workshop is a jewel of the 7th arrondissement and also is the supplier to a number of gourmet restaurants and fancy tearooms around the city.
109 Rue du Bac, 75007
9. Reÿs Glaces Éternelles
Coming to him in a dream in 2020, Jean-Pierre Braun was convinced that he was to become a glacier (ice cream-maker). Following this dream, he set off to Tuscany to learn the art of gelato from Italian master and created Reÿs Glaces Éternelles in Paris's Marais district. Crafting ice cream that is 100% artisanal, 100% natural, and 100% made with love, Reÿs flavors are inspired from his travels around the world.
4 rue du Bourg Tibourg, 75004
10. Glaces Glazed
Priding itself as a community first and foremost, Glazed is a Parisian glace "laboratory" where the ice creams are made-to-measure and are accompanied by a punch of rock music in the background. Testing crazy flavors with unique stories, the ice cream-makers aim to create limited-edition surprising mixes – like Pizz'ice made with mozzarella ice cream and tomato sorbet – with only fresh ingredients that are in season.
19 Rue Geoffroy-Saint-Hilaire, 75005
54 Rue des Martyrs, 75009