© la-divine-comedie.com
In the dead of winter, a romantic escape to the South of France sounds extremely enticing. Surrounded by nature ranging from snow-capped mountains to secluded beaches to rocky cliffs, there is no shortage of tranquil environments to settle upon and seemingly escape from the rest of the world.
Picking the right place with your partner can sometimes feel overwhelming. To spend less time planning where to stay and more time dreaming about the journey, check out our list of some of our favorite hotels across the South of France.
Alpin d'Hôme
When you picture the South of France, you may only recall images of beaches and seaside cliffs. But that is certainly not all that it has to offer… Located in the Haute-Alpes, in Southwest France, the Alpin d'Hôme allows its guests to escape into nature amongst the mountains – which is particularly enticing for winter vacation enthusiasts looking for a secluded ski holiday. But with 160° windows looking out onto the trees and rolling hills, you may never get out of bed!
Le Moulin de Camoula
At the foot of the majestic rocky mountain Le Baou is a 15th century flour mill that was completely renovated and lovingly converted into the charming B&B, Le Moulin de Camoula. Just a short 25-minute drive from the Nice airport, this cozy 4-room establishment comes complete with a hidden garden and secret river with a waterfall. Staying at Michael and Cecilia's Bed and Breakfast will make anyone appreciate the joyful art of living slow.
Les Rosées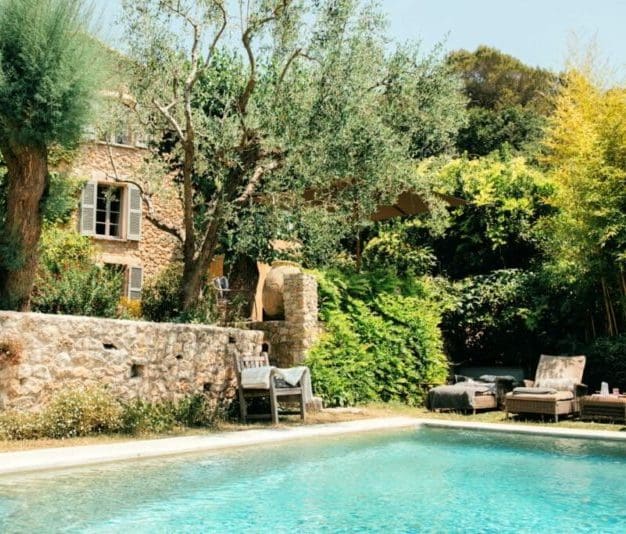 Opposite the picturesque medieval village of Mougins is a simple yet refined, authentic provençal mas (French for guesthouse). Using only ancient restoration techniques, this 400-year-old bastide blends modern and contemporary features alongside gorgeous antique furniture. During your stay in one of the 5 suites, you can relax by the pool tucked behind olive trees, take a stroll through the rose garden, and enjoy food sourced that day from the local market.
La Divine Comédie
Home to the largest private garden in Avignon, complete with koi carp pond and tranquil swimming pool, La Divine Comédie makes guests forget that they are in the heart of this southern city. Every detail was clearly carefully thought out in this hidden luxury gem to invite guests to unplug and unwind.
La Villa Douce
An absolute jewel of the Mediterranean, this 4-star hotel has the most idyllic views one could wish for on a vacation to the French Riviera. The heated swimming pool, as well as 31 rooms and suites, look out onto the panoramic view of the sea and the Golden Islands. Ideally located between Saint-Tropez and Le Lavandou and just minutes from the beach, La Villa Douce is a most certainly a sweet escape.
Les Roches Blanches
A former mansion located at the entrance of the Calanques National Park near Marseille makes its guests feel like royalty. In addition to gorgeous suites facing the Mediterranean, 5-star hotel Les Roches Blanches comes complete with three restaurants, a spa, tennis court, golf course, and option to rent a boat to discover the magical coast between Marseille and Saint-Tropez. By the end of your stay you might just find yourself searching for your own French mansion!
Airelles, La Bastide de Gordes
For an experience in ultra-luxury in the historic hills of the South of France, look no further than Airelles, La Bastide de Gordes. With no shortage of restaurant options and breathtaking views on a perfect Provençal hilltop, you'll never want to leave. However, if you do manage to take a break from the pool, sauna, and spa that was transformed from a former abbey, Gordes is one of the most beautiful cities to explore in France, having inspired many renowned artists over history.
La Bastide du Rocher
This particular "couples-only" B&B guarantees the ultimate romantic getaway. With only three suites, each equipped with its own jacuzzi, you and your partner will feel like you've been transported to a private paradise. In this calming oasis of intimate seclusion, it's easy to fall in love all over again – with each other and with the South of France.
Domaine du Mas de Pierre
A new intimate and luxurious resort in the heart of a Mediterranean garden serves as a magical getaway among the mountains of the French Riviera. It's easy to feel right at home in one of the cozy Provençal bastides. A quick drive from the Nice airport and only a short walk from the historical and charming town of Saint-Paul-de-Vence, experience all of the region's beauty while indulging yourself at the many local restaurants and shops.
La Villa Mauresque
Be where the action is — but also hidden from it. Nestled between the most beautiful secret coves of the French Riviera and perched over the red rocks, La Villa Mauresque is an oasis of peace and beauty revered by many of the most discerning and famous. Not far from Cannes, and only steps from the beach, you will quickly start to feel like a movie star in this seafront boutique hotel.
This post contains affiliate links. If you click through and make a purchase, we may receive a commission (at no additional cost to you). Thank you for supporting My French Country Home in this way as we provide recommendations to our favorite establishments around France.