There are few experiences more unique than browsing an antiques or flea market – or, if you're referring to one in France – a brocante. These bustling pop-ups exist all over the country, but there is a particularly rich collection to be found in towns near the southern coast. If you're planning a trip there, a visit to one is a must.
Walking through a brocante in France at first might feel slightly disorienting, with so many stalls and vendors offering a wide gamut of items and objects. However, once you get your bearings (see our Top Antiquing Tips for Fairs & Markets here!), perhaps stopping to pick up an antique set of cutlery or feel the old wood of an antique chair… it is as if you are transported for a moment back in time. Pretty soon, you'll start picturing the stories that each piece holds, envisioning the future it can have in your own home.
To start planning your next brocante tour, check out our round-up of where to antique in the South of France below!
L'Isle-sur-la-Sorgue
Travelers in search of French antiques stream year-round to the inland "island" of L'Isle-sur-la-Sorgue. This small Provençal town is a haven for art and antiques and is beloved for its wealth of vintage shops and weekend markets. The town attracts hundreds of thousands of hopeful hunters each year for the bi-annual fair and the weekly brocante, which takes place every Sunday from 10 a.m. to 6 p.m.
In addition to the massive influx of traders that travel in for the fairs, there are over 300 dealers that permanently reside in L'Isle-sur-la-Sorgue – the town is reputed to have the highest concentration of antiques and second-hand shops in the world.
Avenue des Quatre Otages
Quai Jean Jaurès
84800 L'Isle-sur-la-Sorgue
Le Jas des Roberts
Le Jas des Roberts' brocante has become a must-see market for antique hunters in the Golfe de Saint Tropez. For nearly 30 years, this weekly Sunday market has welcomed both professionals and individuals, tourists and locals, alike.
Visitors are often greeted by the soothing sound of cicadas outdoors as they hunt for a unique treasure or simply indulge in the opportunity to soak up the quintessentially Provençal atmosphere. Once you have satisfied your curiosity, relax and recuperate over lunch at one of the many delicious local restaurants.
Route de la Mort du Luc
Chemin de Négresse
83310 Cogolin
Villeneuve lès Avignons
Situated across the river from a charming 700-year-old medieval city is one of the most well-known brocantes in France: Villeneuve lès Avignons. Every Saturday, the town's big, open square hosts around 95 professional vendors selling impeccable collections of paintings, linen, silverware, ceramics, crystalware, and collectibles. Flea market professionals enthusiasts come from all around Europe to get their hands on these antiques.
Before you start your bargain hunt, take a walk through the ancient cobblestoned streets for a morning espresso. Once you've found your treasures, celebrate with an oyster lunch and a refreshing glass of wine at one of the many cafés.
Place Charles David
30400 Villeneuve-lez-Avignon
Barjols Antiquités Brocante Marché Couvert de l'Ancien
In the hills of la Provence Verte, in the Barjols Village, rests a permanently covered brocante that's open daily from 10:30 a.m. to 6 p.m. This ancient tannery building houses 30 merchants offering a variety of antiques and second-hand goods, from classic furniture to unusual knick-knacks.
Not only is this marché couvert a delight-filled maze of stationed stalls for antique hunters, but it is also a marketplace that will offer estimates and even purchase outsiders' old objects and furniture. Something to note if you are thinking of cleansing and refreshing your collection!
Antiquités Brocantes Barjols
1048 route de Draguignan
83670 Barjols
Carpentras
For a more low-key antiquing experience, the brocante at Carpentras is a wonderful option. Here, there is no sense of urgency to attack the best deal at the crack of dawn. Instead, vendors and shoppers arrive in the late morning, and sellers take time and care to explain any stories associated with the objects on display – an interesting and special experience!
The variety of items varies greatly, but here, you'll most likely find second-hand goods and knick-knacks, as opposed to grander, decorative antiques. But don't let that deter you, the personal stories that accompany the sales are priceless.
Allée Jean Jaures
Parking des Platanes
84200 Carpentras 
Cours Saleya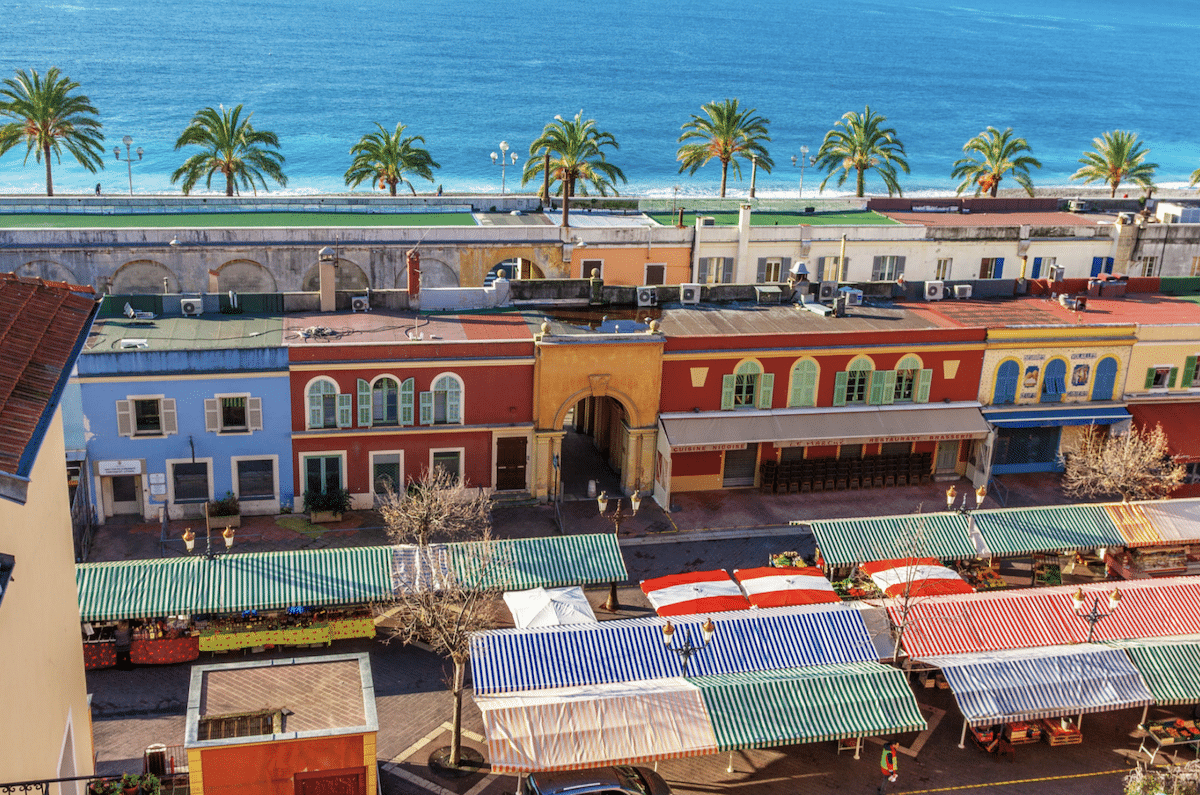 If you've ever visited Nice, you're probably familiar with the iconic red and white striped tents in the central market center: Cours Saleya. Here, from Tuesday to Sunday you will find here the best of the South's flowers, fruits, vegetables and spices. However, on Mondays, you cannot miss the magnificent brocante!
From 7 a.m. to 6 p.m. around 180 antique and second-hand dealers set up around this famous square and unpack their many treasures. Pay a visit and you can find anything from vintage furniture to rare period objects to artists' paintings. The atmosphere is exceptionally friendly, with passionate traders and curious visitors falling into moments of instant connection.
Cours Saleya & Place Pierre Gautier
06300 Nice
Pro tips: For any brocantes you visit, make sure to bring cash as sellers often don't accept credit cards. Also, if you are looking to strike up a bargain or deal, know that the vendors are more willing to negotiate as they start packing up at the end of the day (as opposed to first thing in the morning). Happy antique hunting!