Mealtimes are sacred in France. From leisurely lunches on sunny terraces, to three-course meals enjoyed in bistro booths, to decadent dinner parties that start early and last long into the night, it's no secret that French culture revolves around food.
France's cuisine and culinary styles have long been celebrated as some of the best in the world. The top French chefs, at home and in professional kitchens, prioritize flavor and use only the freshest and highest quality ingredients. 
We've put together a list of the best French cookbooks, offering recipes for both traditional fare and creative takes on the country's classics  – for entrées ("starters"), plats ("mains") and desserts – and even a smattering of shopping and hosting tips, so you can bring the flavors and vibe of France into your own kitchen, wherever in the world it may be.
Fromages: An Expert's Guide to French Cheeses 
by Dominique Bouchait 
The ultimate exploration of French cheese by a French fromager ("cheesemonger") with over three decades of experience. This cookbook starts with answers to 70 of the most common questions about cheese (for example, "why do some have a crust and others do not?") and then delves into the 45 A.O.P-recognized French cheeses (with full-format gorgeous photography) and their origins. Offering the best tips for each kind on everything from storage to wine pairings, it's a must-have for any cheese lover.
A Bite-Sized History of France 
by Stéphane Hénaut & Jeni Mitchell
A creative and informative French cookbook that explores the stories and legends behind some of France's most famous foods and wines (think Roquefort, cognac and croissants). It's written by a Franco-American couple – a cheesemonger and an academic – who together bring to light a delicious journey that intertwines France's rich gastronomic culture and history. 
Rustic French Cooking Made Easy: Authentic, Regional Flavors from Provence, Brittany, Alsace and Beyond 
by Audrey Le Goff

A wonderful new French cookbook exploring regional dishes – simplified for your accessibility but with all the delicious flavor complexities the country is famous for. Each recipe is broken down with easy-to-find ingredients, so you can make authentic French meals anywhere in the world.
Lunch in Paris 
by Suzy Ashford
Tour each of Paris's arrondissements with these scrumptiously, simple recipes. This cookbook breaks out each of the city's 20 neighborhoods into a series of dedicated recipes complemented with beautiful portraits. The classic offerings prove that French cuisine doesn't have to be fussy or difficult. Bon appétit !  
Dîner à la Maison: A Parisian's Guide to Cooking and Entertaining at Home
by Laurent Buttazzoni (intro by Sofia Coppola)
The best French cookbook for tips on hosting the perfect dinner – from weekend casual to holiday party. Penned by renowned French architect, gourmand and celebrated dinner party host, Laurent Buttazzoni, this unique cookbook offers 40 menus and includes hosting tips, a guide for shopping and even suggestions for best table settings and decor. It features photos from the author's home and an introduction by iconic filmmaker, Sofia Coppola. 
Looking for the perfect French dessert for summer?
Try our recipe for Strawberry Brioche Perdue!
Chocolate: Recipes and Techniques from the FERRANDI School of Culinary Arts 
by FERRANDI Paris
For true chocoholics, there's a no better master tutor than the FERRANDI School of Culinary Arts. Their newly-released bible, Chocolate, is the ultimate tool for aspiring bakers. From classics to special occasion pieces, this dessert cookbook includes all the equipment you'll need, plus a grading system so that you can chart your progress.  
Provence: The Cookbook 
by Caroline Rimbert Craig 
Hailed as the "fruit and vegetable garden of France," Provence's cultural identity has largely been shaped around the kitchen table. Caroline Rimbert Craig's family is from the southern foothills of Mont Ventoux, making her arguably the best person to offer up French recipes for delicious, seasonal Mediterranean dishes in Provence: The Cookbook.
Mastering the Art of French Cooking, Vol. 1
by Julia Child
A kitchen classic that's been teaching Americans to cook more French for over 40 years. This beautiful tome – largely regarded as one of the best French cookbooks ever written by an Anglophone – offers detailed techniques and instructive illustrations for key French recipes (grouped by theme), making it as easily accessible to beginners as it is for seasoned pros. It even offers adaptations of classical French techniques to American conveniences. An absolute necessity in any enthusiast's kitchen.
Dinner In French 
by Melissa Clark
The 43rd acclaimed book from star food writer Melissa Clark, who is best known for her New York Times' column, "A Good Appetite." Often likened to a 21st-century Julia Child, Melissa's chic new cookbook offers 150 classic French recipes through a contemporary lens. A fresh take on traditional cooking methods, Dinner in French is a great French cookbook to any gastronome's collection.
Bistro: Classic French Comfort Food
by Alain Ducasse 
A collection of comforting French bistro recipes from iconic chef and international restaurateur Alain Ducasse. For this cookbook, Ducasse has taken the best of classic bistro cuisine and French country cooking (think pâté en croûte, French onion soup, oeufs cocotte, to name just a few) and reinvented it as modern fare. 
Fruit: The Art of Pastry
by Cédric Grolet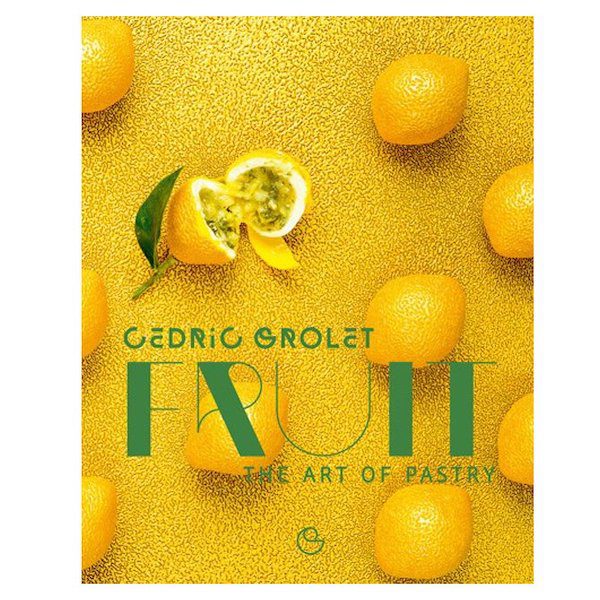 Edible art. Heralded in the dessert world as the best of his generation, French pastry chef Cédric Grolet crafts trompe-l'œil goodies that are as unforgettable a sight to admire as they are delectable to eat. His cookbook – Fruit: The Art of Pastry – is a stunning display of 130 recipes featuring 45 different haute-couture "fruits" that, when cut into, you'll find are actually pastries with delectable filings. You have to make them to believe it!  
Let's Eat France!
by François-Régis Gaudry 
Named a "Best Food Book of the Year" by The New York Times Book Review, National Geographic, The Guardian and more, Let's Eat France! comprises "1,250 specialty foods, 375 iconic recipes, 350 topics, 260 personalities, plus hundreds of maps, charts, tricks, tips" having to do with French cuisine. Essentially an encyclopedia for Francophile foodies, it includes a region-by-region index of the country's best recipes and guides, profiles of famous culinary icons and creative visual infographics, this cookbook entertains from the first to last page.
French Country Cooking: Meals and Moments from a Village in the Vineyards: A Cookbook
by Mimi Thorisson
A captivating cookbook from popular lifestyle blogger and chef Mimi Thorisson, inspired by her country and family life in the small French village of Médoc. It features delicious recipes inspired by local ingredients, farmers and artisans, evocative photographs taken by Mimi's husband, Oddur, and charming anecdotes of "off-the-beaten-path" French wine country.
Pâtisserie at Home 
By Will Torrent
Ever wanted to master the art of French pastry? This down-to-earth cookbook will guide you there with simple, step-by-step instructions for the best and most authentic French recipes. From multi-colored macarons to tarte au citron to madeleines, Pâtisserie at Home is sure to bring out your inner pastry queen. Create show-stopping delights just like you see in the bakery windows – you'll be surprised at how achievable it is.
For more French recipes and tips on French entertaining,