The French are known for their impeccable sense of style and sophistication, and nothing embodies this more than their choice of perfume. According to the queen of perfume, Mademoiselle Coco Chanel, "No elegance is possible without perfume. It is the unseen, unforgettable, ultimate accessory." Clearly, in the eyes of the French fashion icon, the perfect fragrance is more of a necessity than an accessory.
Finding the right perfume is an ever-evolving, lifelong journey. Whether you are looking for a new scent, still in search of "the one," or just interested in switching it up, here are seven of the best French perfumes preferred by les femmes françaises for a little inspiration.
Chanel No. 5
It is no question that Chanel No. 5 is the ultimate French perfume, created by Gabrielle 'Coco' Chanel herself in 1921 with parfumeur Ernest Beaux who presented her with a visionary composition. This timeless classic has a unique blend of floral and musk notes, with top notes of bright citrus, heart notes of jasmine and May rose, and base notes of vanilla and sandalwood leaving an incredibly sensual trail. It is a fragrance that is both feminine and powerful, and has been worn by some of the world's most iconic women.
Dior J'adore
Christian Dior started creating perfumes back in 1947 to match his new couture designs. Miss Dior was the brand's first scent – created for the designer's sister – and has recently had a revival surge around the world. Dior J'adore is another particularly iconic French fragrance often associated with luxury and femininity, with notes of jasmine, ylang-ylang, and rose. Created in 1999, the modern and sophisticated scent is loved by many, as is its recognizable curvy bottle.
Guerlain Aqua Allegoria
Guerlain has been producing French eau de parfum since 1925. Their signature scent, Shalimar, is one of the absolute favorites among French women, but if you're looking for a fresh take on a classic, the Aqua Allegoria collection is a must-try. Celebrating the wonders of the world, each fragrance pays tribute to Nature's beauty and allows you to discover exceptional raw ingredients and notes. With fresh scents that are gift to the nose, the golden beehive bottle is a treat for the eyes as well.
Hermès Twilly d'Hermès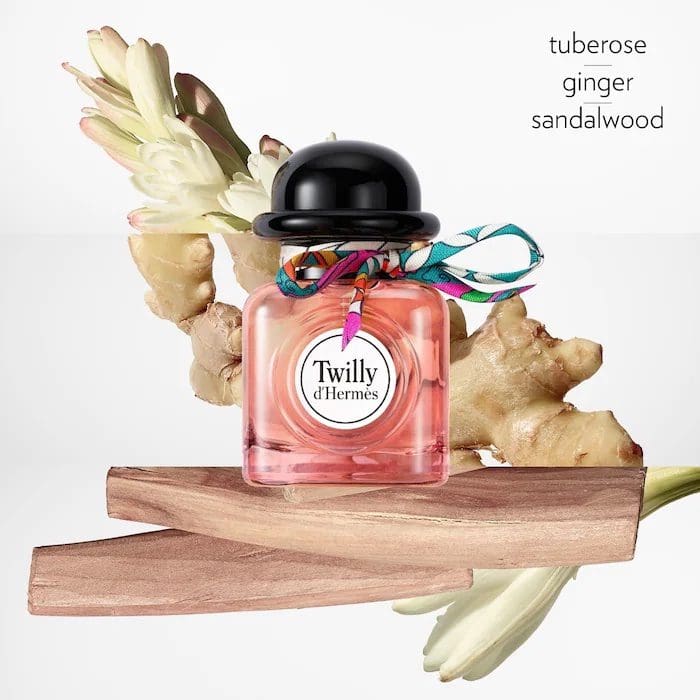 While Hermès is one of the world's oldest luxury brands, its bestselling Twilly d'Hermès was only created in 2017, and has quickly become one of the most popular perfumes in France. The "scent for the Hermès girl" is a blend of ginger, tuberose, and sandalwood, which gives it a fresh and vibrant scent. Often associated with youthfulness and playfulness, it's a favorite among French women who want to add a touch of whimsy to their day.
L'Eau Sézane
Our favorite modern French cool-girl brand produces a fragrance of fresh air, with a soft and sparkling scent. L'Eau Sézane is a feminine perfume that is a marriage of citrus fruits with the lightness of a spring floral bouquet. The after notes are a blend of light wood coated in a veil of musk. Like a ray of sunshine in the late afternoon, L'Eau Sézane is a refreshing breath of fresh bliss.
Lancôme La Vie Est Belle
Like the name suggests, Lancôme La Vie Est Belle recalls the scent of a beautiful life. It has a sweet and floral nose, with top notes of blackberry and pear, heart notes of white iris, orange blossom, and jasmine, and base notes of patchouli. It is a fragrance that is both romantic and feminine, and is perfect for a special occasion.
Fragonard Étoile Eau de Toilette
Fragonard put Grasse, the perfume capital of France, on the map. Started by entrepreneur Eugène Fuchs in 1926 to sell perfume directly to tourists on the French Riviera, Fragonard scents are the epitome of summer in the south of France. The best-selling Étoile Eau de Toilette in its golden aluminum bottle has sparkling top notes of bergamot, apple and ginger, blends in heart notes with gardenia, lily of the valley and jasmine and a base of amber and cedar wood. This fresh fragrance is sure to seduce all summer long.
Feel one step closer to France with an iconic French fragrance. It's hard to go wrong with any one of these fabulous scents.
This post contains affiliate links. If you click through and make a purchase, we may receive a commission (at no additional cost to you). Thank you for supporting My French Country Home in this way as we provide recommendations to our favorite brands and products.