One of the last fairy tale châteaux built on the banks of the Loire Valley during the Renaissance. This elegant property and its outstandingly beautiful gardens — which are meticulously landscaped to a fine art — will linger long in your memory.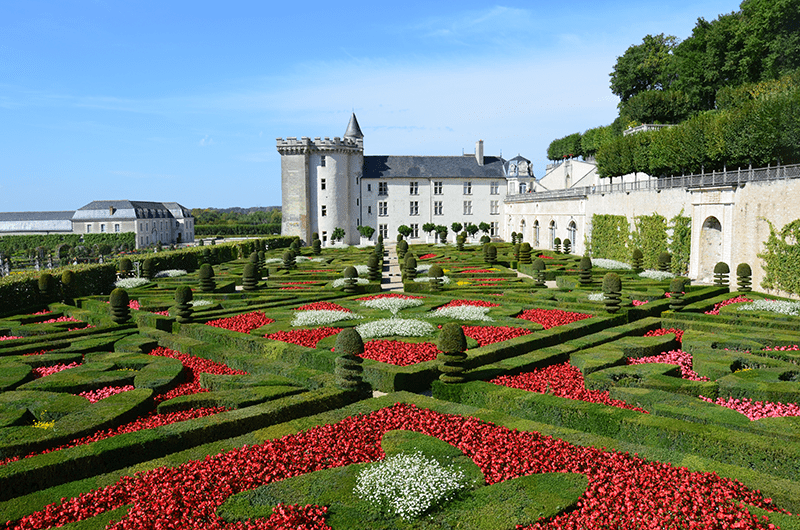 Situated in the small, charming town of Villandry (8 miles west of Tours), the château was originally a medieval fortress before it was acquired in 1532 by Jean Le Breton (the Minister of Finance under François I). Le Breton made dramatic renovations during his time there: he knocked down the fortress entirely and added three main structures around the keep.
The château's facades were returned to their former Renaissance beauty by Dr. Joachim Carvallo, who took over the estate in the early 20th century (it now belongs to his great-grandson, Henri Carvallo). Between 1908 and 1918, Carvallo completely reimagined the gardens — which were previously a romantic 19th-century jardin à l'anglaise ("English-style landscaped garden") — to achieve a harmony between the building and its surroundings.
He focused primarily on reinventing its expansive terraces and ornamental landscaping to include magnificent ponds in the form of a Louis XV mirror and sun.
But it is the 16th-century-style "kitchen garden" that charms visitors the most. Dotted with rose bushes, it is a riot of color where vegetables are planted in alternating geometric patterns.
In the wintertime, covered under a gloriously thick blanket of snow, the château's enchanting gardens appearance changes entirely.
A winter's walk through the maze of topiaries and box tree lacework after a snowfall is a magical and an unmissable experience.
In the colder months of the year, frost artfully covers this mosaic of ornamental cabbage .
Open to the public every day of the year, the stunning gardens of Villandry can be explored in its ever-changing beauty throughout all the seasons.
Take a look at this stunning video of Villandry in all its fall glory!
www.chateauvillandry.fr
Château et Jardins de Villandry
3 rue Principale, 37510