Marion's Normandy home featured in the Nov/Dec 23 MFCH Magazine, photographed by Cecile Perrinet-Lhermitte.
As the holiday season approaches, there's no better way to infuse your festive gatherings with a touch of elegance and timeless charm than by creating a beautiful French-inspired tablescape. French décor is synonymous with sophistication, and combining it with the warmth of the holidays can create a captivating ambiance that your dinner guests are sure to love.
Whether you're decorating for Thanksgiving, Christmas, or another special evening, we'll guide you through the steps to achieve a beautifully curated table setting that will make your celebrations this holiday season truly memorable!
**If you see something you like available from the MFCH Boutique, use the code MFCHMAG10 at checkout in the boutique to get 10% off your order!
Setting the Foundation
The foundation of any well-decorated table is a beautiful tablecloth. To give your holiday table some coveted French flair, choose tablecloths, runners, and napkins in soft, neutral colors like ivory or taupe, faded colors like blue, or with natural imagery. Linen is also a great choice of material, as its slightly rumpled texture exude timeless appeal .
For Thanksgiving, opt for earthy tones like muted oranges and browns and greens for your linens. The Fall season also allows you to play around with lush foliage prints, so have some fun!
For a sparkling Christmas, you can't go wrong with a clean white tablecloth, which you can accessories with a Christmas color-palette. Or, pair gold and copper accessories with this grey-blue linen for a more intimate and moodier setting.
The Perfect Place Setting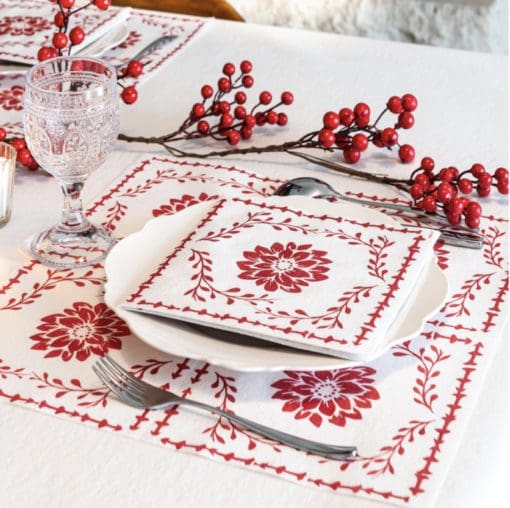 Napkins are not only practical, but they also serve as an opportunity to exhibit your personal style. Their placement, color, and presentation can elevate the overall look and feel of your holiday table.
For Thanksgiving opt for napkins that complement your table's overall color scheme. For more relaxed dinners, embrace the rustic French style by using cloth napkins with a slightly more casual fold. Or, add a personalized touch by tying your napkins with twine and securing a sprig of rosemary or a small pinecone to each napkin for a French farmhouse-inspired feel.
For Christmas, when tablescapes become a little more chic, choose vintage linen or cotton napkins in classic white or cream. Fold them neatly and place them on top of your dinner plates or in elegant napkin rings for a polished look. However, the holidays do offer the opportunity to get a little more creative. Consider using festive patterns for a fun finish. We love the collection of disposable paper napkins from Francoise Paviot, now available on the MFCH boutique.
Unique Serveware
To maintain a French theme, your choice of serveware is crucial. Antique plates and serving dishes not only act as functional vessels for your culinary creations but are also beautiful centerpieces that showcase the quintessential elegance of French design.
For thanksgiving, vine-leaf plates help capture the fall spirit, while white, silver and blue serveware with intricate patterns bring a touch or French regality to your dinner table.
Decorative Details
To truly immerse your holiday table in the ambiance of French style, it's essential to pay attention to the smaller decorative details. These elements may be small in size but play a significant role in creating an authentic and refined atmosphere.
Detailed knife rests, copper accents and utensils that are reminiscent of French dining not only serve their functional purpose but also add a unique touch to your table, setting it aglow with holiday spirit.
Find all of these products and more on the MFCH Boutique! Adding a touch of France to your tablescape will ensure a holiday meal your guests won't soon forget…