Love gorgeous homes? Love the country? We've rounded up our favorite country home blogs and Instagrams brought to you by the masters of this style. From 18th-century Gothic manors, to traditional stone cottages, to brand new farmhouses, these beautiful houses around the world (and their owners) have one thing in common – a creative and seemingly effortless country home style. Read on for the best country home blogs and Instagrams accounts to follow.
Courtney Allison
One of our all-time favorite country home blogs is brought to you by gifted stylist, freelance photographer and author Courtney Allison. Courtney turned a previously run-down house in the California countryside into a home, outfitting it in an elegant, feminine style – think multiple chandeliers, vintage china and fresh flowers everywhere. She employed a light, gentle color palette and mastered the art of layering textures and patina, both of which lend a comfortable, welcoming feeling to anyone lucky enough to enter her home.
Her blog, French Country Cottage, is filled with gorgeous photography and documents the journey of finding her own style while renovating the 1940s cottage. Courtney offers tips on everything from design inspiration to greenhouse makeovers to outdoor entertaining. If you want more, she's also penned a book of the same name (that includes a guided tour of her home, as well as easy-to-follow ideas for creating French country decor) and recently released French Country Cottage Inspired Gatherings.
Charlotte Anne Fidler
The view is what first sold Charlotte Anne Fidler on her 17th-century country home. Perched on a hilltop directly across from Salisbury Plain in southern England, she and her family enjoy breathtaking views for miles. Charlotte speculates the original structure of the house to have been built around 1690, with the "high-ceilinged" Georgian features added on later, around 1780. 
Charlotte traded a busy life in Hackney, London for the countryside nearly a decade ago. She remains a Creative Director and Brand Consultant in the beauty, fashion and lifestyle worlds – which make a lot of sense when you walk through her front door. Her Instagram features much of her charming home life in the country and her understated, "very British" decor style. Charlotte admits she prefers simple, authentic design over frills and fuss; this is evident in her affinity for a grey hues and an understated blend of modern and antique decor.
Paula Sutton
Paula Sutton and her husband left the glamorous world of press and model management in London to raise their three children in the picturesque English countryside. This transition allowed her to follow her passion for country interiors, gardens and antiques in a new lovely home they called Hill House. Hill House, which spawned Paula's blog of the same name, was originally built in 1822 and is a typical Georgian country home – square and symmetrical with large sash windows, high ceilings and well-proportioned rooms. The property also boasts more than an acre of garden structured with elegant box hedging and filled with copper beech, oak, pine, holly and apple trees. 
Paula has quite a talent for vintage style and creating a sense of country home, which is why we love following her life. Have a look at her blog and Instagram, and you'll see her eye for beauty reaches everywhere.
www.hillhousediaries.blogspot.com
Bee Osborne
Bee Osborne is an award-winning, internationally acclaimed interior designer, renowned for creating gorgeous hotels and residential spaces both in the UK and overseas. Thus it's no surprise that she brought the same expertise and energy to designing her own country home, a thatched Cotswolds cottage in Oxfordshire.
For a visual, the stone cottage, which was built in 1540 and includes original features such as a shepherd's seat and old bread oven, has been likened to the beautifully rustic house in the Hollywood film The Holiday. Follow Bee's Instagram for gorgeous shots of her home and life in the country, family and design project around the world.
Jenny Rose-Innes
Author Jenny Rose-Innes currently lives in Australia by way of South Africa. She began her country home blog "The Lime Walk" as a way of documenting her new life and as a way to stay in touch with loved ones. Among the topics she shares on the blog is her love of gardening, her exciting travels and the development projects she carries out with her husband, Michael – including the renovation of her own abode.
Located in the Southern Highlands in New South Wales, her house is just two years old; she and Michael actually lived next door and purchased the neighboring property with a plan to renovate and sell the existing house on it. Luckily for us and the rest of her followers, the couple decided to build their own dream country home. Finished in weatherboard and built on a timber frame, it has a classic American colonial feel mixed with Australian flavor and an incredibly colorful interior. For more, follow Jenny's blog and check out her recently released interior design book, Australian Designers at Home.
Charlotte Reiss
One of our favorite country home Instagrams follows the impossibly chic lifestyle of Charlotte Reiss, owner and founder of the French homeware brand Vivi et Margot. Charlotte was inspired to launch this US-based online shop while transforming a 150-year-old rural property into a gorgeous and welcoming second house in the Deux Sevres region of western France. 
Charlotte always knew it was important to her to restore and renovate a "very traditional" French home. As such, she recognized the good bones of her French haven where other go-seers did not. Full of character, it came with vaulted ceilings, original beams, fireplaces and an old barn (which she later turned into a laundry room). Her Instagrams – both her own and Vivi et Margot's – provide endless French country style decor inspiration and unveil secrets of how she turned a dark, drab and plain property into a fairytale country home for her family.
@charlotte_reiss & @vivietmargot
Jennifer Holmes
Meet Jennifer Holmes of the successful home blog and online store Dear Lillie, which she runs with her brother. Jenni grew up in the countryside and has a truly impeccable eye for design and styling, so it's no surprise that she has one of the most gorgeous country homes that we've ever seen. 
Located in a "quaint college town" in eastern Virginia, Jenni's colonial-style house was built in the 1980s. We love to follow her blog to see how she keeps the traditional house up-to-date with modern design trends, yet somehow maintains all the familiar welcoming touches of comfort that define a country home. Jenni even lets you shop the decor details of different rooms of her dwelling on this page of her blog.
Maggie Deering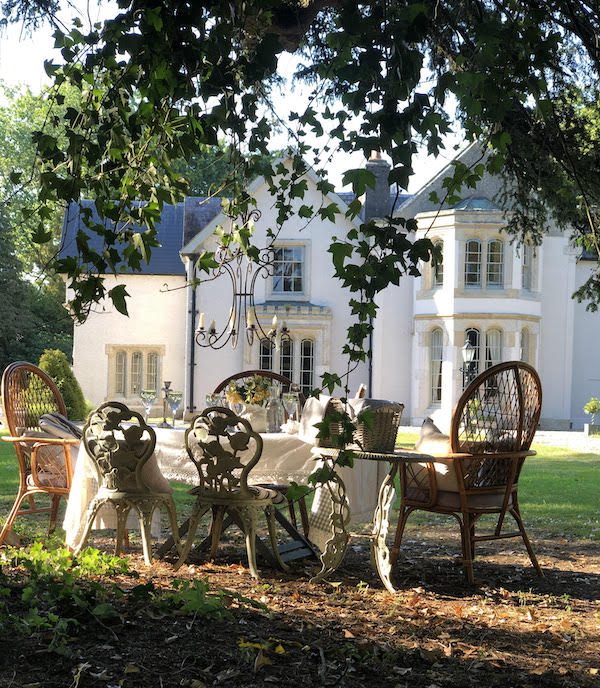 Welcome to the jaw-dropping country home of Maggie Deering. Maggie, her husband and her two children lead an idyllic country life in county Carlow, in the heart of Ireland's ancient east coast. She documents the everyday charms and comforts of living in the country in their 18th-century, Tudor Gothic revival manor house via her Instagram account, @wisteriatreehouse (named after the wisteria that used to envelop it). You'll find tidbits of the story of how her family came about the stunning manor, tips on how she designed it in a romantic "cottage style" and how she made it truly feel like home.
Pretty shots you can expect to see? The home's light-filled "Morning Room," epic library, huge kitchen and country-style bedrooms, the surrounding lush farming landscapes and creek and no shortage of drool-worthy decor.
Melissa Penfold
Journalist, stylist and design aficionado Melissa Penfold is one of Australia's most trusted and respected authorities on design. She runs the eponymous country home blog Melissa Penfold, which serves up a wealth of inspiring stories on antiquing, gardening, decorating (for every possible room of a home – indoor and out!) and much more.
Melissa has her own gorgeous, French-inspired country home in the New South Wales Southern Highlands of Australia, which you'll see featured on both her blog and Instagram (along with thousands of other stunning properties). Comprising a main house, a barn and stables, it is elegant, timeless and detailed with gorgeous design details such as parquetry flooring, natural fabrics and classic furnishings.
Sharon Santoni
The country home that started it all. Last on our list of favorite country home blogs is that of our own MFCH's Editor, Sharon Santoni. Her charming, old house in Normandy – where she's lived and raised a family for 23 years – inspired the blog that inspired the digital offshoot of the very magazine you're reading. Sharon's blog – My French Country Home – has brought her followers around the world a taste of authentic French country home living and inspiration for over a decade. Her posts cover everything from buying and caring for antiques, to enjoying local food and recipes, to tips on home and garden design. It's also the guiding force behind My Stylish French Box, a luxury subscription box she curated so her readers can bring touches of France into their own homes. 
For more country home blogs, check out Sharon's monthly blog series "Country Homes Around the World!"
For more on French culture and life in France,