When it comes to natural beauty, France is queen. Notorious for their flawless, natural appearance, the French take their skincare very seriously. Pharmacies are stocked with shelves upon shelves of cosmetic products that are world-renowned for their effective properties, giving women that natural je ne sais quoi French look.
However, not all of these products come from natural origins. In order to have a healthy and positive impact on both your skin and on the environment, it is important to know what is in the formulas and shop for brands that use organic and plant-based ingredients.
Read on to learn about our favorite natural French beauty brands that are available online for you to shop from abroad.
Typology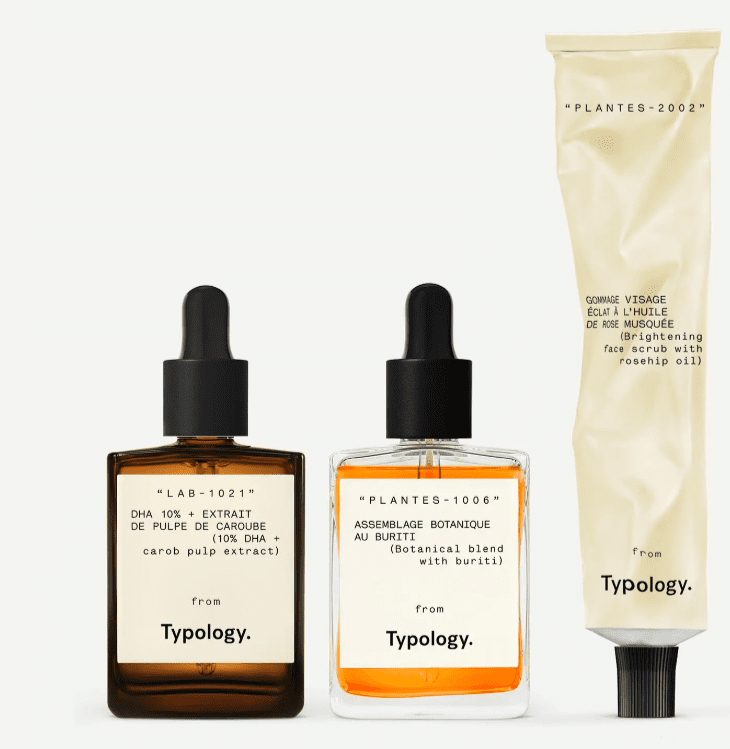 Typology is an online-only, direct to consumer French skincare brand launched in 2019. With a mission to go back to the basics and a philosophy of simplicity and transparency, Typology's formulas use only the most-essential, natural active ingredients. They source exclusively from sustainable farms using gentle extraction techniques. Simple and effective, Typology's formulations are concise, concentrated, and 100% made in Aix-en-Provence, France.
Take their quick, diagnostic quiz online now to understand what products your skin needs most.
Caudalie
A unique story of love, nature, and passion, world-renowned cosmetics brand Caudalie actually began in a vineyard. During the wine harvest of 1993, Caudalie's founder Mathilde met a professor who taught her that grape seeds contain the most powerful antioxidants in the world. Two years later, after several tests and experiments, they launched 3 products containing grape seed polyphenols which are still sold today.
Caudalie is a wine term that refers to the time the flavors of a wine linger on the palate after tasting it. Similarly, the effects of the natural formulas used in the brand's products leave a lasting impact. Most notably, their Beauty Elixir created in 1997 is a 100% plant-based formula that remains a cult favorite to this day.
Mademoiselle St. Germain
As royal as the name sounds, Mademoiselle St. Germain is the first royal plant beauty brand made with ingredients entirely extracted from French plants with extraordinary beauty virtues. The cosmetics range reintroduces forgotten plants with a high concentration of active ingredients. Each formula was inspired by ancient beauty recipes and made possible by research in conjunction with the Potager du Roi.
Their anti-aging bio-cellulose face mask is available on the MFCH Boutique.
Laboratoires du Cap-Ferret
Laboratoires du Cap-Ferret is the standard of "French Excellence" specialized in organic anti-aging solutions. Cap-Ferret, located in the south of France, is a place where the Earth meets the Sea. This unique site serves as the inspiration for the creation of their products which combine active ingredients of plant and marine origin.
You can shop their exfoliating organic body scrub on the MFCH Boutique.
Apicia
Apicia is the new generation of organic "dermo-cosmetics" and "nutria-cosmetics" based on apitherapy, which combines 100% natural, certified organic products and clinically effective active ingredients. The name Apicia comes from the Latin "Apis" meaning "the bees." It is a brand firmly established in the world of apitherapy and beekeeping, aimed at highlighting the extraordinary effectiveness of the ingredients of the hive.
Visit the MFCH Boutique for a variety of Apicia hair and skincare products.
French Girl Organics
At French Girl Organics, they believe in the power of self-care and conscious consumption. They create luxurious products with high-quality, organic ingredients that do more: ethical business practices, environmental impact, and a fair trade, cruelty-free supply chain are all a part of the clean beauty equation. Their products are thoughtfully created to provide a pleasurable, sensorial experience of guilt-free indulgence.
We love their organic lip scrub and lip polish!
Nuxe
From its beginnings as a small Parisian formulation laboratory bought out in 1990, Nuxe is a pioneer in natural-origin cosmetology. Each skincare product is formulated and manufactured in France to meet pharmaceutical quality requirements. Helping to protect the planet and conserve its resources is a top priority of the brand throughout entire value chain: from selection of natural-origin active ingredients to formulation and packaging.
The cult-favorite category from Nuxe is their nourishing hair, face, and body oil.
Knowing what is in your skincare products is the best way to get the je ne sais quoi results!
This post contains affiliate links. If you click through and make a purchase, we may receive a commission (at no additional cost to you). Thank you for supporting My French Country Home in this way as we provide recommendations to our favorite brands and products.